"Lou-Tips"
by Megan G
(Fort Mill, SC, USA)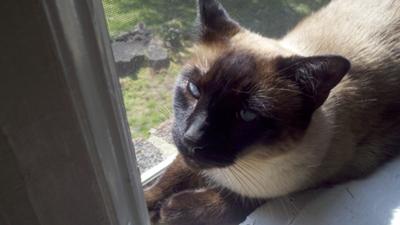 Lou
My Seal Point Applehead Siamese boy Lou discovered Q-Tips as a kitten and they quickly became his favorite toy.

He learned how to fish them out of the bathroom trash cans with his paw, and even taught himself how to open the bathroom cabinet doors to find a seemingly never-ending supply of swabs.

He would toss them in the air, bat them around on the ground and roll with them, but the most fun he had with "Lou-tips" was when we played fetch.

He'd walk up to me, yowling, and drop a Lou-tip right in front of me. Every time I reached out to grab it, he'd bat my hand away.

When I did get a hold of it I'd throw it across the room and he'd chase it as fast as he could, pick it up in his mouth, bring it back and drop it right in front of me.

My favorite game with the Lou-tips was to dangle one in front of his nose and watch him immediately go cross-eyed (well, more cross-eyed than usual!)

Lou's obsession with Lou-tips led to these cotton swabs being found all around the house. Under every piece of furniture, under the covers, and in the water bowl.

Sadly, I lost my best friend Lou very suddenly and unexpectedly this past weekend when I discovered he'd passed away overnight of a blood clot.

It was instant and painless, and I'll always be thankful that my buddy never knew pain and suffering, but I know that for the next few weeks, and months, I'll be finding "Lou-tips" that he's hidden for me.


Reply from Caroline:
Megan, I'm so sorry for your loss. Thank you so much for popping in and sharing Lou's story with us, he was a beautiful Seal Point from his photo, and you must miss him terribly.
I've heard of Siamese cats having some unusual toys - everything from stuffed animals to rubber frogs to remote control mice to woollen jerseys - but
never
heard of one with an obsession with Q-Tips before!
I'm sure that finding those Lou-tips over the next few weeks will be very bittersweet, but I hope they'll bring back many happy memories for you too.
If you enjoyed this, you might also like:
Have You Discovered Our Newsletter?
If not, why not? Subscribe to our email newsletter, Meezer Musings, to stay in touch, be the first to see new information and pages as they come out, and read the things we only talk about in the newsletter.

Learn more about it on our Newsletter Sign-Up page.