Siamese Cat Rescue Centers
Siamese Cat Rescue Centers Around the World

If you're thinking about adopting a cat, why not contact a specialist Siamese cat rescue center? The lists below will help you find the nearest one to you.

These centers are generally run by individuals or small groups of people who are passionate about the breed and who, in many cases, have dedicated their time and their own money to rescuing and caring for pedigree cats.
They may be breeders or ex-breeders who have the cattery facilities to offer cats space in their own homes, or otherwise cats may be fostered with volunteers until permanent homes can be found for them.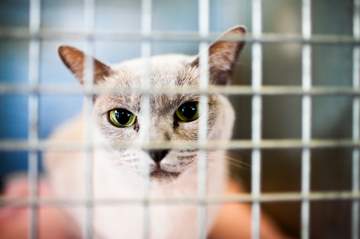 A new home for me?
Image © iStockphoto | Don Bayley
But Before You Do

... know that taking in an abandoned cat may not be for everyone. It's not always plain sailing. Many cats taken into adoption centers come with 'baggage' and behavioral problems.
They may have been harmed or mistreated in the past and may not be too trusting of humans, and it may take time (in some cases, a lot of time) and patience before they settle in and become loving family pets again.
Before contacting one of the centers below, do please take a look at my Siamese Cat Adoption page, which gives you a full list of things to think about.
And if you'd like to know what adopting a cat can be like, why not take a look at Siamese Cat Adoption Stories?

If You'd Still Like to Go Ahead
I've put together a list of all the rescue centers I can find around the world. You'll find this list below. I'm not associated with any of these groups but if you have problems contacting any of the centers listed, please let me know so that the details can be updated.

Which Country?

Use these links to jump down the page and find Siamese cat rescues in:

If You've Found a Stray Siamese Cat ...

... and you can't adopt it yourself and don't know what to do with it, rather than handing it in to a general animal pound, why not try contacting your nearest center for advice on what to do next?

Do You Run a Siamese Cat Rescue Center?
If you do, and it isn't listed here and you'd like to be included, please contact me by using the form on my 'Contact Us' page.

---
Siamese Rescue - United Kingdom
Siamese Cat Welfare Trust (Siamese Rescue UK)
South of England and East Anglia. The SCWT is a charity rescue and re-homing service. They generally look to rehome adult cats, not kittens.
Midshires Siamese Rescue: Facebook Page

North of England Siamese Rescue
Linked to the SCWT, based in Sheffield.
Siamese Cat Society of Scotland: Facebook Page
Sometimes has cats in need of a new home.

---
Siamese Rescue Centers in the United States
Siamese Rescue (.org)

Siamese Rescue is a group of independent Siamese cat rescue centers affiliated to the Siamese Cat Rescue Center of Virginia, which started it all.
Through the main website you can contact any of the following centers about available cats:
California - Pacific Siamese Rescue
California (South) - Southern California Siamese Rescue
Colorado - Colorado Rocky Mountain Siamese Rescue
Virginia – The Siamese Cat Rescue Center
Each of the centers is an individual charity offering advice, information and re-homing. They are always, always grateful for donations and practical support.
Siri Zwemke, who started the Siamese Cat Rescue Center in Virginia from which all the others sprang, has written an honest, funny and sometimes heartbreaking book, Rescue Meez, about her experiences. Available on Amazon, all purchases (and reviews) would be a great help to the rescue effort.

Other Siamese Rescues in the USA

There are several Facebook groups dedicated to finding homes for rescued Siamese cats. These are:
Homes for Meezers
Siamese Cats: Finding Rescues, Homes and Love!
The following Siamese cat rescue centers are listed alphabetically by State:
Connecticut, Delaware, Maryland, Pennsylvania
Meezer Pleasers
Based in Pennsylvania, all cats are homed in foster homes in the States above. (Meezer Pleasers no longer seems to be operating. If anyone knows different, please let me know.)
Georgia
Kitty Angel Rescue (formerly Atlanta Persian and Siamese Rescue)
Second Hand Siamese (Flowery Branch, GA)
Illinois / Indiana
Midwest Siamese Cat Rescue
Kansas
Kansas City Siamese Rescue
Michigan
Michigan Siamese Rescue
Michigan / Ohio
Purrs Abound Siamese Rescue of Michigan, Inc.
Michigan, Illinois, Indiana, Eastern Iowa, Wisconsin
Specialty Purebred Cat Rescue
Ohio
Blue's Mews Siamese Cat Rescue
Puerto Rico
Siamese Rescue of Puerto Rico (Facebook)
Siamese Rescue of Puerto Rico (Website)
Texas
Austin Siamese Rescue: Website
Austin Siamese Rescue: Facebook
---
Siamese Rescue Centers in Australia
Siamese Rescue Cat Club SA
Adelaide, South Australia
The only Siamese Rescue I can find in Australia - this is their Facebook page. Please let me know if you know of any others!
There are sometimes Siamese cats available through an organization called RescueMe - their Australian page can be found here:
---
Siamese Rescue Centers in Canada
Rescue Siamese
Winnipeg, Manitoba
Again, the only center I can find in Canada! If there are any others, please contact me and I'll add them. You can also check the Canadian page of RescueMe, which can be found here:
Read More: Cat Care Considerations

Some of the articles and newsletters on this site may contain links to products I think you may enjoy. If you purchase through these links I receive a small commission, but there's no extra cost to you. Find out more on the Affiliates Disclosure page.


Have You Discovered Our Newsletter?
If not, why not? Subscribe to our email newsletter, Meezer Musings, to stay in touch, be the first to see new information and pages as they come out, and read the things we only talk about in the newsletter.

Learn more about it on our Newsletter Sign-Up page.