Now It's Leia's Turn
by Ellen
(New Brunswick, Canada)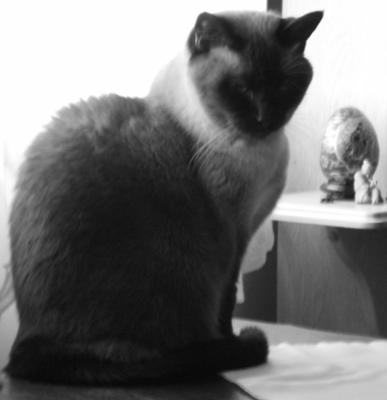 Leia's Favourite Spot
You've "met" Dax and Suzie on this site. Now it's Leia's turn.

(Princess) Leia was an almost-13-year-old applehead seal point, and I suspect not quite pure Siamese. I say this not just because of her appearance, but her behaviour was not altogether Siamesey -- more like a tabby, or maybe Himalayan.

Leia was not quite as smart or as vocal as Dax, but adorable, especially when she tapped you on the arm for attention.

She didn't like to be picked up, and maybe the lap was not her favourite spot. However, she liked to be close. On the bed and sofa, she positioned herself with her bottom up against you.

Oh, and one of her most endearing habits: if you just let your hand dangle over the side of a chair, she would pat herself. She simply walked back and forth, arching up to your hand to ensure she got the full benefit of the stroke, without you having to move at all.

She passed away just about three months after Dax, whom we both missed terribly. For those who have lost loving animal companions, I'm sure that you can understand what a double blow this was to me.

However, I have some great memories; and I have Suzie now. She is so special in her own way.
---
---
If you're enjoying your visit, why not
sign up for our newsletter,
Meezer Musings?

Reflections on all aspects of life with Siamese cats, from stories in the news to cat care tips, books, photos, and other goodies!

---
Like us? Please share us with
your Siamese cat-loving friends!


---

Home  .  Privacy Policy  .  Affiliate Disclosure  .  Sitemap  .  About  .  Contact
Information provided on this website is not intended to replace professional advice. If you have any concerns at all about your cat's health, please consult a vet.
Life with Siamese Cats does not sell any personal information from this website.
For further information please see our Privacy Policy.
Copyright © 2009-2021 Caroline Haines, Life with Siamese Cats. All rights reserved.


---