A miracle Siamese
by Emily
(Olympia WA)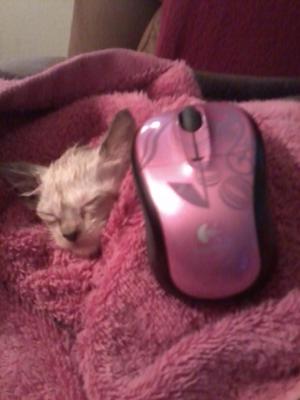 Male's head by a mini portable mouse (before TLC)
I am a private care nurse. Yesterday morning I pull up at my patient's house. Rain is pouring down and it is miserably cold.

I see this box across the parking lot of her apartment complex - angry that people litter, I stomp over there to pick it up and place it in the dumpster.

As I yank the box up, out falls a mass of wet blankets.

I bend over, even more perturbed, and out fall two kittens. One is no longer alive and the other is crawling with black fleas.

I am not only a Buddhist but a lover of animals. I put this tiny present in my jacket and run into my patient's house. She tells me to take the day off, paid, and keep this kitten alive.

I get the kitten home and pull him out of my jacket. Now I am covered in fleas ...

After four hours of TLC he is flea-free and OMG ... white with ice blue eyes. I take him to my own cat (Scarlett's) vet and he tells me that this kitten won't live through the night.

I am determined for this kitten to live. I pull out a sterile syringe and get some of the kitten fake milk stuff the vet had me buy - every three hours I was nursing this tiny life.

HE SURVIVED the night and when I got out of bed he started crying - it sounded like a baby. My vet told me he was a Siamese mix around four weeks old - all morning he followed me around and found Scarlett's wet food and decided to crawl in her bowl and eat ...

I load him up in a small carrier and go to work. It is rainy, and again I pull up excited to show my patient my little treasure, when right by the dumpster I see a white mass the size of a small dinner plate.

I walk over and see that it is two more lifeless kittens. I pick them up and start crying - under these two lifeless babies is a tiny tiny little kitten and it's alive like the first one ...

So now I am nursing two of these precious gifts and the first one I found has attached himself to my boyfriend like nothing I have ever seen.

It is a boy and the one still fighting for life is a girl. I am only allowed to keep two cats, so my best friend is taking the little girl she named "Jewel" when she is healthy.

My boyfriend (who was blown up in Afghanistan) is so in love with this little life that has eyes the same color as his and is a survivor like himself.

What a miracle of life, to bring these two together ...


Reply from Caroline:
Thank you so much, Emily, for sharing your lovely story with us.
It sounds as if the little boy is off to a good start, and I hope Jewel survives and thrives too. It's not an easy job bringing up orphan kittens - how lucky these two were to be found by you ...
Enjoy this? In the mood for more rescue stories?
---
---
If you enjoy our work, why not
sign up for our newsletter,
Meezer Musings?

An opportunity to share my reflections on life with
Siamese cats, stories in the news, photos, tips, goodies,
and our Meezer of the Month!

---
Like us? Please share us with
your Siamese cat-loving friends


---

Home  .  Sitemap  .  Privacy Policy  .  Affiliate Disclosure  .  Resources  .  About  .  Contact
Information provided on this website is not intended to replace professional advice. If you have any concerns at all about your cat's health, please consult a vet.
Copyright © 2009-2019 Caroline Haines, Life with Siamese Cats. All rights reserved.


---