Sanskrit, The Lynx Point Siamese
by Laura
(Windsor Mill, MD)
Showing off
We adopted Sanskrit, our Lynx Point Siamese, from a rescue organization and he had no paperwork to tell us about his family tree or where he came from.

We thought he was simply a mix of a Siamese and a tabby and didn't realize there's a name for his markings! Who knew we had a little Lynx Point on our hands?

I am so happy I've come across this website! Any idea what color he might be?

I'm thinking Blue Point (his face and ear markings are grey and his leg stripes are a dark tan). I know he might change as he gets older, since he's only four months old now.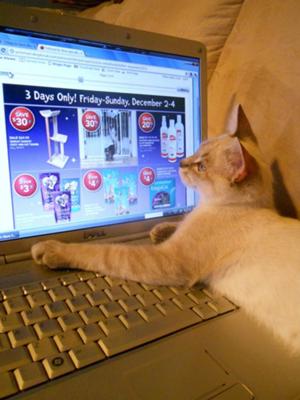 Checking out cat products online
I always like to choose unique names for kitties, so when we brought Sanskrit home my husband and I debated for a while over names.
We kept coming up with common names like Snow, Vanilla, etc. and it was hard not to think of ones that were feminine for such a sweet little boy kitten!
I said, 'I want something exotic.' As a historian, I eventually thought of the name Sanskrit, an ancient language that was spoken in India and Tibet.
His nicknames include Skritzy and Skrit.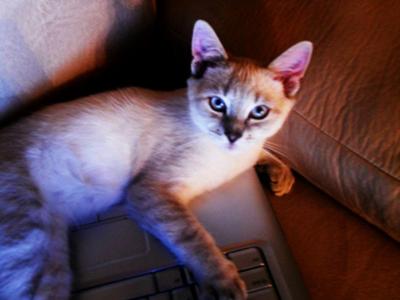 Blue eyes and pink ears!
Reply from Caroline:
Welcome Laura, and thank you so much for both your stories and all the photos; as you can see I've put them together and I hope you like the resulting page.
I agree that Sanskrit looks most like a Blue Lynx Point - as a kitten he looked as if perhaps he might be a Lilac (Frost Point) Lynx but I think he's a little too dark for this now, especially as he'll probably get even darker as he gets older.
The way to tell though is by looking at the paw pads; a Blue Point will have slate-grey paw pads, whereas a Lilac Point should have paw pads with a pinkish undertone.
Sanskrit's look grey in the picture where I can see them, but that might be the lighting. I hope this helps. He's certainly very beautiful!
Reply from Laura (December 2011):
Caroline, thank you so much for posting the page about my beautiful boy!
His paw pads are very dark grey, so your assessment of him being a Blue Point seems to be right on the money.
My husband and I count ourselves so lucky to have Sanskrit. He joined our little family in October. We had adopted two kittens at the end of August - one of whom is Silverbelle who is in the one photo on this page. The other kitten that we adopted was named Coppertone.
After just 2 weeks of Silverbelle and Coppertone being our new babies, Coppertone began bloating in her stomach. We took her to the vet and she was diagnosed with FIP, which is a genetic mutation that causes fluid build up around the heart, lungs, and stomach and is incurable.
Our hearts broke as we made the decision to end her suffering. She was just 4.5 months old.
Silverbelle missed her "sister" as much as we did and it became apparent that we needed to adopt again. That's how we found Sanskrit. There he was - sitting in his little cage at Petsmart, just 9 weeks old, staring at us with those blue eyes! He had a rough go of it too when we first brought him home - he wouldn't eat or drink due to bacterial and viral infections.
With a brief vet stay and at home medication, he soon became his energetic, rambunctious self. We could not have asked for a sweeter boy. And Silverbelle took to him right away - giving him nightly baths, sharing her toys with him, and teaching him how to go straight to Mom and Dad's hearts!
For more about the colors mentioned above, see: