Our Little Lynx Point Siamese
by Kaylee and Donna
(West Virginia)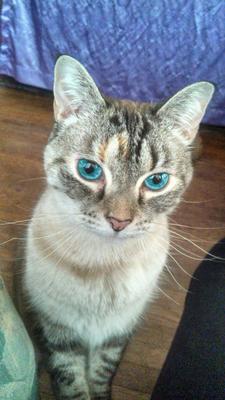 Seven years ago my family rescued a beautiful Siamese cat. She was severely abused by her owners and they left her at a pet boarding place claiming they were going out of town. After weeks of waiting it was clear they were not coming back for her and she was put in the shelter.

When I saw her for the first time I was amazed. She was an older cat so nobody wanted her, and it brought tears to my heart when they said she was scheduled to be put down in the next twenty-four hours. I did not hesitate - my family and I adopted her. She puked all the way home due to the meds they gave her.

At the time we didn't know what breed she was. She was listed at the shelter as a Siamese mix, and it was not until a year later that we found out she was a Lynx Point Siamese. A nice vet told us.

Her past did not faze her and within a week she was comfortable in our home. Her previous name was Chaos but we renamed her Flower (although her nickname is Phattbutt!)

She is the queen of the house, and so loving. She may be old but she acts like a kitten. She is also very vocal. When we got her she was lighter but with old age her hair has darkened. We still don't know what color she would be classified under.

She is a wonderful cat and we love her so much. I don't know what I would do without her. <3


Reply from Caroline:
Flower is a
beautiful
cat, Kaylee - thanks so much to you and Donna for sending in her story. She has the most amazing and quite unusual eye-color - such a wonderful bright turquoise in that first photo of her.
Rescues and shelters generally classify any Siamese-type cat as just 'Siamese mix' because that's all they're officially able to say. If a cat has Siamese characteristics there are always some Siamese genes in that mix somewhere, but most cats who wind up in shelters don't come with pedigree or registration papers, and most are mixes of some sort.
But we can look at the point colors and markings and come up with a reasonable description. She's certainly a Lynx Point, because of her stripes, and because her markings and coat are so dark I'd say that colorwise, she's a Seal Lynx Point Siamese.
It always amazes and saddens me that so many beautiful cats are mistreated and end up in shelters (or worse), but well done you for taking her and giving her a loving home. As you've discovered, rescued Siamese-type cats generally have so much love to give and it's great that she settled in so quickly and so well with you when she first arrived.
Where to next? You might also like:
---
---
If you enjoy our work, why not
sign up for our newsletter,
Meezer Musings?

An opportunity to share my reflections on life with
Siamese cats, stories in the news, photos, tips, goodies,
and our Meezer of the Month!

---
Like us? Please share us with
your Siamese cat-loving friends


---

Home  .  Sitemap  .  Privacy Policy  .  Affiliate Disclosure  .  Resources  .  About  .  Contact
Information provided on this website is not intended to replace professional advice. If you have any concerns at all about your cat's health, please consult a vet.
Copyright © 2009-2019 Caroline Haines, Life with Siamese Cats. All rights reserved.


---