Siamese Cat Adoption. What You Need to Know

Considering Siamese cat adoption? Below you'll find everything you need to know and think about when adopting a Siamese cat, including finding a rescue center by using our list of Siamese cat rescue centers around the world.
If you're interested in rescue and adoption, take a look to see if there's a center near you. There might be one just down the road.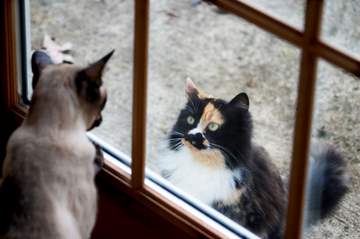 Glad you found yourself a good home, buddy
Image © iStockphoto | Barbara Henry
Siamese Cat Adoption – Questions to Ask Yourself
Before you start down the adoption path, ask yourself the following questions:
Can I afford a cat?
Adoption from a Siamese rescue center is less expensive than buying a kitten from a breeder, but make sure you can also afford to keep your new pet in the long term.
Reputable rescue centers will spay or neuter cats before putting them up for adoption, but other items you'll need to think about are food, litter, veterinary expenses, annual vaccinations, flea and worm treatments, microchipping or collars and ID tags, bedding, grooming tools and toys.
You can find out more about these on our cat costs page.
Do I have enough time?
Cats need care! Food, water and companionship are the basics.
You'll need time to change their litter boxes, clean up after them if they're sick, take them to the vet and find someone to care for them when you're away.
Siamese cats need human contact – please don't get one if you're going to be out all day. If you think you can cope with adopting a pair, two cats will keep each other company, but can be double trouble, too!
If you travel or are away from home a lot, you'll need to wait until you're more settled before adopting a cat.
Siamese cats can live for fifteen to twenty years. Are you prepared to look after them for that long?
Is my home right for cats?
Are you allowed to keep a pet in your home? Check your rental agreement. Are there any restrictions on keeping animals?
Many cat adoption centers will insist that you keep your new pet indoors. Do you mind if your furniture gets scratched? What about fleas? Toilet accidents? Do you have any house plants poisonous to cats?
Siamese cats are active and energetic – they can speed round your home like racehorses. Do you have breakables? Anything they could hurt themselves on?
What about kids and other pets?
Some adoption centers ask that cats go to quiet, adult homes where they will be the only pet.
If you have young children or already have other animals in your home you may not be allowed to take the adoption route because cats who have been badly treated or traumatized in the past will need calm, quiet homes where they can re-adjust.
A house with kids or dogs can be a no-no, but not always. It depends on the cat's nature. Rescue centers will always try to ensure that you're a good match for the animal being adopted.
Who'll look after my kitty when I'm away?
Have you got reliable friends or neighbors who are prepared to care for your pet if you have to go away? Can you afford to employ a pet-sitting service, or pay for your cat to stay in a cattery?

What Siamese cat adoption centers need to know

If you've looked through the questions above and still want to go ahead, here's what a Siamese cat adoption center may want to check.
What kind of family are you?
Some centers will want to 'meet the family' (in some cases, all the family!) You, your spouse, your kids … just to make sure that you're the right match for your cat.
Is your home secure and safe for cats?
Most rescue centers in the United States require that you keep adopted cats indoors. They'll want to make sure your home is secure and cats can't escape.
Home visits are sometimes carried out by rescue volunteers to make sure your home is suitable for your new pet.
What's your neighborhood like?
Those that don't require you to keep your cat indoors will want to know what your neighborhood is like. Are your surroundings suitable for cats? Do you have a yard or garden? You will not be allowed to adopt a cat if you live on a street with lots of traffic.
Have you owned a Siamese before? Or other cats?
You may be asked to provide proof that you're responsible and have owned a pet before. Sometimes a letter of recommendation from a veterinarian is needed.

Mixed Breed Cats and Siamese Kittens for Adoption

You may be lucky enough to find Siamese kittens for adoption through a rescue center, although in general more adult cats than kittens come up for adoption.
So if you have your heart set on the Siamese breed, you may need to consider an older cat. They have a lot of love to give, so please don't rule them out! Some of the nicest cats I know were older cats when they were adopted.
You might also need to think about adopting a 'Siamese mix' cat, as the background of many cats in adoption centers is unknown.
Depending on their circumstances, they don't always come in with pedigree papers.

Other Pages You May Like


Some of the articles and newsletters on this site may contain links to products I think you may enjoy. If you purchase through these links I receive a small commission, but there's no extra cost to you. Find out more on the Affiliates Disclosure page.


Have You Discovered Our Newsletter?
If not, why not? Subscribe to our email newsletter, Meezer Musings, to stay in touch, be the first to see new information and pages as they come out, and read the things we only talk about in the newsletter.

Learn more about it on our Newsletter Sign-Up page.