Siamese Cat Shows

I always love visiting Siamese cat shows, and try and get to them whenever they're taking place near me, as well as going to others that might be further away.
You can learn so much about Siamese cats (and their owners) by wandering round and talking to people showing their cats, as well as browsing the goods stalls and chatting to stallholders and other attendees.

Winner! Best In Show
Photo with thanks to and copyright © Tasanee Cattery

Below you'll find a list of all the shows featuring Siamese cats and related breeds that I've been able to find around the world.
Not all of them are Siamese-specific shows (which seem to take place predominantly in the UK and Australia, as far as I can discover), but you should find Siamese cats at most of them! The links below will take you to the appropriate country.

If you're involved in a show that isn't listed here, please contact me to let me know about it and I'll be happy to include it.
Siamese Cat Shows - Australia

2020
23rd February
Feline Assoc. of South Australia
(FASA) All Breeds Summer Show
Virginia Community Centre
17 Park Rd, Virginia SA 5120
 Tel: 0419 868 899

28th February-1st March
Royal Canberra Show
Exhibition Park
Canberra
ACT

22nd March
Feline Assoc. of South Australia
(FASA) All Breeds Autumn Show
Virginia Community Centre
17 Park Rd, Virginia SA 5120
Tel: 0402 359 815

18th April
NSW Cat Fanciers' Association
State Show  (all breeds)
Lambton High School
15 Young Road
Lambton, NSW

6th-7th June
World Cat Congress &
Australian Cat Federation (ACF)
National Cat Show
Perth, WA

20th-21st June
Feline Assoc. of South Australia
(FASA) Annual Show
Virginia Community Centre
17 Park Rd, Virginia SA 5120
Tel: 0430 059 304

4th-5th July
CCCA National Cat Show
Community Bank Stadium
129-163 Main Hurstbridge RD
Diamond Creek, Melbourne, Victoria
Tel: 3 9438 8900

19th July
GCCFSA - Golden Awards Show
Tel: 0414 237 007
www.catfancysa.asn.au

16th August
Feline Assoc. of South Australia
(FASA) All Breeds Winter Show
St Paul's College,
Gilles Plains  
Tel: 0432 816 049
30th August
Siamese Cat Club of South Australia
St Pauls College,
Gilles Plains

4th-13th September
Royal Adelaide Show
Adelaide Showground
Wayville
Tel:  8210 5211
27th September
Festival City Cat Club Show (FASA)
St Paul's College,
Gilles Plains  

3rd October
Blue Point Siamese Society
(NSWCFA)

More information about these and other Australian cat shows can be found at: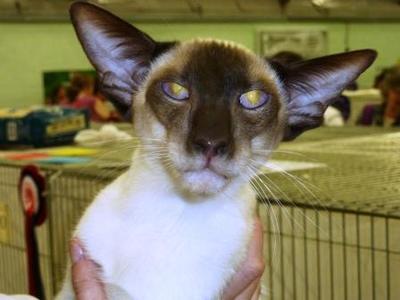 Cat Show Life
Photo with thanks to and copyright © Sheila Calloway, Newlands Cattery

Siamese Cat Shows - United Kingdom (UK)

2020
7th March
Red Point & Tortie Point
Siamese Cat Club
Wendover Memorial Hall
Wharf Road, Wendover
Aylesbury, Bucks HP22 6HF
11th April
Northern Siamese & Oriental Cat Society
Coronation Hall, Old Station Yard
Milby, Boroughbridge
York
YO51 9BL
2nd May
Chocolate Pointed Siamese Cat Club
Bugbrooke Community Centre
Camp Close, Bugbrooke
Northampton NN7 3RW
9th May
Siamese Cat Society of Scotland |
Nor'East of Scotland Cat Club
The Caird Hall, City Square
Dundee, Tayside, DD1 3BB
16th May
Balinese Cat Society |
Caramel & Apricot Federation |
Tabby Pointed Siamese Cat Society
Garth Hill College, Bull Lane
Bracknell RG42 2AD
20th June
Siamese Cat Association |
Oriental Cat Association
Pitsford Sports Hall, Moulton College
Pitsford Road
Northants NN3 7QL

1st August
Blue Pointed Siamese Cat Club |
Oriental Longhair Breed Club
Venue TBA

15th August
Lilac Point Siamese Cat Society |
Tabby Point Siamese &
Progressive Breeders Cat Club
Melbourn Village College, The Moor,
Melbourn, Royston, Herts SG8 6EF
24th October
GCCF Supreme Show
The NEC Birmingham
Birmingham
West Midlands B40 1NT
14th November
Ulster Siamese & All Breed Cat Club
Venue TBA

5th December
Trans-Pennine Oriental & Siamese Cat Club
Stockport Masonic Guildhall 169-171 Wellington Road South
Stockport SK1 3UA
12th December
Tonkinese Breed Club |
National Cat Club |
Colourpoint/All Breed Society of GB
Bracknell Leisure Centre
Bagshot Road
Bracknell, Berks RG12 9SE

2021
16th January
Midshires Siamese Cat Association |
Snowshoe Cat Society
Sports Connexion Leisure Club
Leamington Rd
Ryton-on-Dunsmore
Coventry, CV8 3FL
---
Siamese Cat Shows - United States (USA)

2020
February 8th
Malibu Cat Club All Breeds Show (CFA)
Glendale Civic Center
1401 N. Verdugo Road
Glendale, CA  91208

And see the following:
The links below lead to further lists of cat shows all around the USA. They're not necessarily Siamese cat shows, but you may find something near you for a fun day out.

Further Reading

Have You Discovered Our Newsletter?
If not, why not? Subscribe to our email newsletter, Meezer Musings, to stay in touch, be the first to see new information and pages as they come out, and read the things we only talk about in the newsletter.

Learn more about it on our Newsletter Sign-Up page.