Sweet Little Princess
by Laura Hundley
(Reidsville, NC, USA)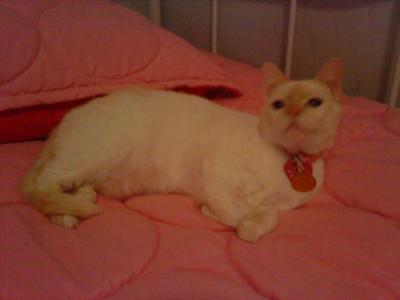 Princess
My flame point Siamese cat is 18 months old and she is a little small for her age - she weighs 7.8lbs. She is the sweetest cat I have ever had.

She is more stuck on me than anyone else in my house. She lays on my shoulder and also my lap, and she will even lay across my neck.

She has flea allergy dermatitis though, I keep her bathed regularly. Her and my tortoiseshell Lucy get along great. Lucy lost a litter of kittens a long time ago and I think she looks at Princess as one of her own.

I love her to death. She has been with me since she was 3 weeks old. I wouldn't take nothing for her.


Reply from Caroline:
Thank you Laura for your message, and picture of your beautiful Princess. Flame point Siamese are gorgeous cats and Princess has such a cute face!
She's obviously inherited the Siamese trait for being a 'shoulder cat' - my cat loves draping himself across my shoulders too; it's a very Siamese thing.
More about Flame Points:
Return to Flame Point Siamese Cats.
---
---
If you're enjoying your visit, why not
sign up for our newsletter,
Meezer Musings?

Reflections on all aspects of life with Siamese cats, from stories in the news to cat care tips, books, photos, and other goodies!

---
Like us? Please share us with
your Siamese cat-loving friends!


---

Home  .  Privacy Policy  .  Affiliate Disclosure  .  Sitemap  .  About  .  Contact
Information provided on this website is not intended to replace professional advice. If you have any concerns at all about your cat's health, please consult a vet.
Life with Siamese Cats does not sell any personal information from this website.
For further information please see our Privacy Policy.
Copyright © 2009-2021 Caroline Haines, Life with Siamese Cats. All rights reserved.


---