A "Snowy" Blessing
by Ronel Roux
(Joburg, South Africa)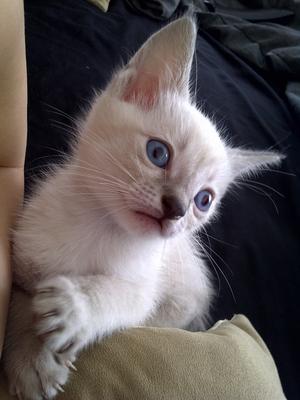 Six weeks old - first day home
Meet our little fur-ball, Snowy. He is eight months old, a Siamese seal/lynx point cross, and although he thinks he's Mufasa the Lion King, he sneaks a suckle on his mommy's nightgown every opportunity he gets.

He's my hubby's and my baby and we love him and he has us all (including 'Granny' and 'Grandpa') wrapped around his little paw.

Like any only child, he loves to be the centre of attention and often honours us with his amazing aerial silk shows on the curtains while we're having dinner!

He is a real 'drama-queen' and fiercely complains and protests relentlessly if his litter-box is not cleaned to his specifications. He also becomes very cheeky when he feels that he's been unfairly reprimanded.

Then there are his multiple personalities. He sleeps like a human, eats like a little pig, plays catch like a dog and attacks his toys like a crocodile.

He has an obsession with cleanliness (like most cats) and often tries to clean the humans as well!

He has a fascination with water and has to drink from every tap he passes. It has to be running water - because any decent cat would drink water from a bowl only in extreme circumstances!

He loves his Wheatbix cereal (dry) in the morning. The humans have cereal, so he wants to have it too. His biggest challenge everyday is to play 'get the humans out of bed in the morning'.

He pleads, threatens, jumps on us, kisses us, bites our noses, stares at us and the newest, stands on the bedside-table and stretches to reach the light-switch (but he's just too short to reach it!)

Being light-coloured he gets dirty easily, especially playing in the empty fire-place. So he regularly gets to bath, which he really doesn't mind. In fact, we think he enjoys being in the warm water (just don't tell anyone).

But like most cats, he doesn't like being wet – we need to follow a very specific routine to get him dry – rub him with a towel, blow-dry, put him on a blanket in the sun in the window, kiss him a lot, brush him a lot, and feed him lots of kitty-treats.

He loves to chew on the herb-garden, especially the mint, parsley and celery (oddly, he does not like catnip). He has a weakness for mint and eucalyptus and would dig my lip-balm or chewing gum out of my handbag if I do not keep it zipped.

He helps Grandpa daily to feed the 'Bearded Dragons' and enjoys scratching in the sawdust to find the mealworms for them (but he doesn't eat them – they're food for 'lower life forms', not a sophisticated cat!)

He is a very curious cat and wants to help us with everything we do, or at the very least, watch us doing it.

I believe that God created him to be the special blessing he is in our lives!


Reply from Caroline:
Ronel, your description of Snowy's antics made me laugh out loud! Our Siamese cats have such very definite preferences, don't they?
And how clever of him to try and switch the light on in the mornings. My cat also goes through the same 'please wake up and feed me' routine as Snowy's, but mine has never yet (thank goodness) worked out how to switch the light on!
He sounds and looks like a real little character, as all Siamese cats are, and I hope you enjoy many happy years with him.
More visitor stories about their own lynx point Meezers:
General information about this Siamese color:
Have You Discovered Our Newsletter?
If not, why not? Subscribe to our email newsletter, Meezer Musings, to stay in touch, be the first to see new information and pages as they come out, and read the things we only talk about in the newsletter.

Learn more about it on our Newsletter Sign-Up page.