Flaming Flash
by Charlie
(Montreal, Quebec, Canada)
I love his color
Hi! I'm here to present my Flame point Siamese, Flash - hope you enjoy! :) It's been a month since I got Flash and I am very happy to have found him.

He was the smallest one out of three brothers, but he has a unique quality, only showing his wild side to me and my boyfriend and also a few close friends. He is normally very calm for a Siamese but when excited or playing nothing can stop him from getting what he wants!

My boyfriend has a Blue point Siamese named Robin - she is Flash's younger half-sister (they basically have the same father). Flash is a month older than Robin.

He is currently sleeping next to me and that is one of the best traits of my Flash. :)


Reply from Caroline:
Welcome, Charlie, and thank you for sharing your photos of Flash – they're great pictures and he's a beautiful boy. Flash is a very appropriate name for a Flame point Siamese cat!
I expect his coloring will get a little stronger as he grows older and it will be interesting to watch how he changes over the years.
You said that nothing can stop Flash getting what he wants when he's playing and this seems to be an especially Siamese characteristic – they're cats who are
very
good at getting their own way!
You also mentioned that Flash was sleeping next to you, and I think Siamese are particularly fond of sleeping near or cuddled up to their owners whenever they can.
My own cat has one of his beds (he has several favorite sleeping places!) in my office and is fast asleep and snoring there just now.
Thanks for stopping by and I hope you have many happy years with Flash.
Update from Charlie: November 6th
Hi everyone! I'm writing for the second time - my best buddy Flash is still a kitten but he's growing fast and entering his fifth month, he's a very active and playful li'l Siamese and I wouldn't change him for the world!
I miss those days when he was really tiny but he is still the same li'l kitty even if he grows; his looks are amazing and not only that but personality-wise too.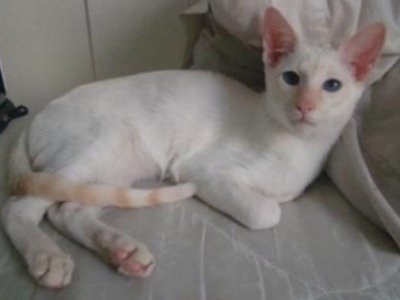 His gaze is hypnotic ...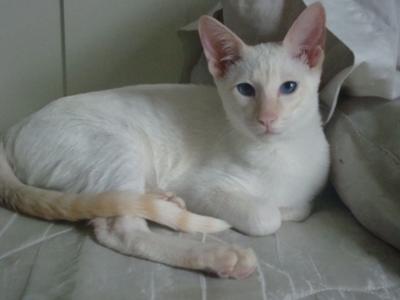 I recently adopted his girlfriend, a Lynx point Siamese named Violet - I'm pretty sure they will have a beautiful litter.
Both Flash and Violet are pure modern-type Siamese, as is Robin, Flash's younger half sister. Flash's and Robin's eyes are dark blue, almost violet, and our Lynx point has light blue eyes. I wonder why?
Hope you guys like my post enjoy and thank you :)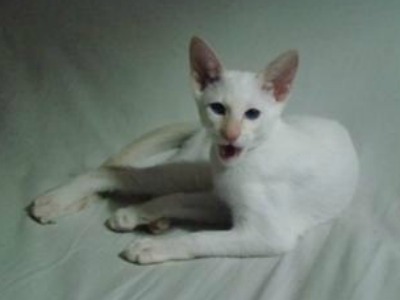 Meeowww!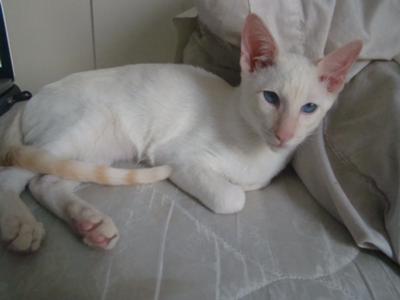 Related articles and stories:
Have You Discovered Our Newsletter?
If not, why not? Subscribe to our email newsletter, Meezer Musings, to stay in touch, be the first to see new information and pages as they come out, and read the things we only talk about in the newsletter.

Learn more about it on our Newsletter Sign-Up page.