My Rescued Meezers
by Valerie Window
(Lagos, Portugal)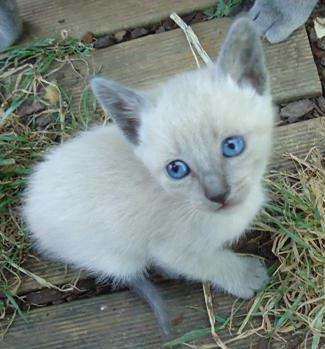 Tai-Tai as a kitten
Tai-Tai
We were walking the dogs when Hobo refused to pass the wheelie bin. I opened the lid and there were faint cries coming from a bin liner. I took out the bag and opened it to find six newborn kittens. Five black ones -all dead - and one almost white, still alive but only just.
Of course I took the little one indoors and made up some kitten milk replacer, which he took with relish from the premie bottle. I made up a box with a hot water bottle under loads of towels, quite expecting to find him dead in the morning.
This little guy was a fighter. Not only did he survive, he thrived. A friend of mine's husband kept goats and she brought me some goat's milk, which apparently is the nearest to queen's milk. I sweetened it a little and he loved it.
Three years later he is a total cuddle bunny and so naughty! He knows exactly how to get attention, from climbing up my leg to jumping up on shelves with the inevitable result of falling and broken ornaments. He wakes me in the morning by kissing my face, and if that does not work then he makes puddings on my chest.
Whatever I'm doing he likes to "help". I mostly do my beadwork with his bum in my face. He's three years old now and I just adore him. I doubt that Tai-Tai is a purebred but I'm just so lucky to have found him.
Ko-Ko
Ko-Ko is a pure Seal Point and came to me for re-homing as his owners relocated back to their native South Africa. Unfortunately they left the cat behind and I was told there was a cat crying in a neighboring garden.
Sure enough Ko-Ko was there in the now empty property but it took several days to catch him as he was very nervous. He was around nine months old then. In the end I managed to get him in the cat trap. Needless to say I didn't look very hard for a new home for him, as he and Tai-Tai became instant buddies.
Ko-Ko is very much an indoor cat, preferring to spend his days resting on my bed or watching TV. He is still rather nervous and runs to hide whenever someone comes to the house. He is definitely the aristocat of the family.
Tico-Tico
I would just like to add a small memorial to my nineteen-year-old grey tabby Tico-Tico, who went over the Rainbow Bridge this week.
Tico was born in a builder's wood pile intended for a bonfire. His mum, who I called Misty, was very pregnant when I first saw her near there, so I used to put food and water out for her.
Bit by bit she got braver and eventually came to the house for food, but would not stay. Then for several days I did not see her, and I guessed she had given birth to her kittens.
Several weeks down the line, I went out to put food down for her as usual, and there she was, so thin, with her five kittens. She had brought her kittens to meet me!
Now she wanted to come indoors which she did ... and stayed. I managed to find homes for four of the kittens but the little tabby one was not amongst them. Then one morning I heard desperate baby mews outside my door.
I opened it and there was the little tabby. He looked up as if to say "is my Mum living here?" He walked in the door and made himself right at home, cuddled up to his mum. We called him Tico-Tico which means little person or thing in Portuguese.
Safe journey over the Bridge little man. Thank you for nineteen wonderful years.