My Sasha, and the Things She Does
by Susan
(BC, Canada)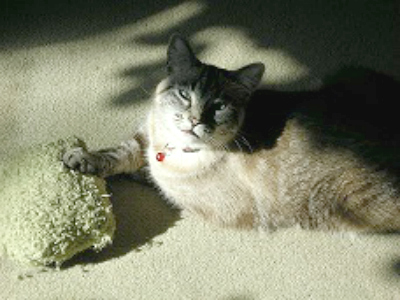 This is my own pillow
My chocolate point Siamese passed away and I started to look for a small dog, but the prices were too costly. So I started to look on the net and I spotted this lynx point Siamese. The price was right and when I saw her I fell in love with her.

She has grown since then, and does some funny things that I never knew another cat would do. I made her a pillow and at first she started to pick it up and sneak around the corner and you never knew, but now she has it in her mouth meowing as she carries it. That is cute in itself.

She doesn't like to be left alone, but when we get back she will bug me and then come to where I'm at the computer and meow until I let her jump up and hold her in my arms while she prrrrrrrrrs away. This is a everyday thing for her. She has to be sitting with me in the living room as well - she would have it no other way.

She loves to bat around a chestnut, and if you're not watching her you will miss a slipper. She grabbed my slipper one day and I couldn't find it. I looked everywhere but started to think where else could it be. I went to do my laundry, and guess what - I found it in her bed! That was funny but very cute at the same time.

Each day she amazes me with what she does. One of the games she loves is to grab a plastic mouse and stuff it under the sofa without you looking. Is it a game for her, or does she just love to watch you find it for her?


Reply from Caroline:
Hi Susan, and thank you for your story about Sasha and the things she does! Her behavior sounds typically Siamese - I know someone else whose cat used to steal one of her fluffy winter boots and hide it all the time.
Others are known to have a whole stash of toys they've hidden under the sofa! And you're right, it is a game to them and I think part of the game is the enjoyment they get from watching you trying to figure out what they've done with the toy!
If you enjoyed this you might also like:
Have You Discovered Our Newsletter?
If not, why not? Subscribe to our email newsletter, Meezer Musings, to stay in touch, be the first to see new information and pages as they come out, and read the things we only talk about in the newsletter.

Learn more about it on our Newsletter Sign-Up page.