What Breed Do I Look Like?
by Lindsay
(Pittsburgh, PA)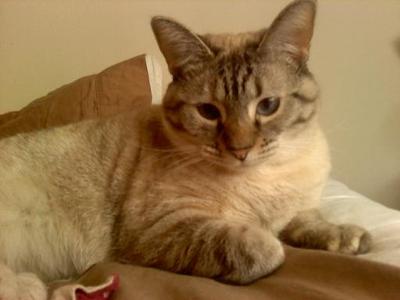 Gypsy
About nine months ago I found Gypsy at the Humane Society, she was found as a stray. She looked quite different from other cats as well as her personality. Out of curiosity I was wondering if anyone had any opinions on the possible type of breed.

In my opinion she looks like a Lynx Tabby Colorpoint. Her eyes are blue and she has the M on her forehead with the same on her ears. The Humane Society just listed her breed as Siamese mix. She is such a sweetheart!


Reply from Caroline:
Hi Lindsay and thank you for your photo of Gypsy. She's adorable!
In my opinion the Humane Society were correct to list her as a Siamese mix, as without proper papers it isn't possible to tell whether a cat like Gypsy is a full Siamese or not.
However, all cats with this coloring and blue eyes will have at least some Siamese genes, and you are right that she is a Lynx (Tabby) Point.
It's difficult to tell from the photo whether she's a Seal or Blue Lynx Point (in the picture she looks more like a Blue), but if anyone has any opinions on this, do join in!
More Lynx Points from our visitors:
Have You Discovered Our Newsletter?
If not, why not? Subscribe to our email newsletter, Meezer Musings, to stay in touch, be the first to see new information and pages as they come out, and read the things we only talk about in the newsletter.

Learn more about it on our Newsletter Sign-Up page.