Siamese Cat Breeders in the UK
Siamese Cat Breeders in the United Kingdom (UK)

Below you'll find a list of Siamese cat breeders in the United Kingdom, shown alphabetically by county, then by cattery name. Click the links below to jump directly to the county you're interested in.
Featured breeders (shown at the top of their county section) have a page of their own here on this website - click the link by their photo to visit their page for more detailed information.
General listings show each breeder's contact details and website.

Please contact the breeders directly, using their own contact details, to find out about available kittens.

*A note for Siamese cat breeders in the UK

If you're in the UK and your cattery isn't listed, why not send us your details? Or, if the information below isn't correct please let us know so we can keep the details up to date, our visitors happy, and you in business!
If you wish you can make your own page on this site, and become one of our featured Siamese cat breeders in the United Kingdom, like the ones at the top of each county section. Tell us all about yourselves, and send us more detailed information about your cattery.
Becoming a featured breeder is free, and easy to do – just click 'Add a Cattery' and follow the instructions. There's also space to add up to four photos of your favorite stud, queen or kittens.

Siamese cat breeders in the United Kingdom
Counties A-M

Aberdeenshire
Chirachai
01561 320703
www.chirachaisiamese.org.uk

Highiq Siamese & Orientals
David & Sylvia Ravenshear
01261 861133
highiqcats@aol.com
Khardagia Kats
Rosehearty
01346 571781
khardagiacats@gmail.com
www.khardagia-kats.co.uk

Avon
Nathifacats
Bristol
01275 839680
nathifacats@blueyonder.co.uk
www.siamesecats.pwp.blueyonder.co.uk

Bedfordshire
Chinablue
www.chinabluesiamese.co.uk

Moustaches
Carolyn@moustaches.freeserve.co.uk
www.moustaches.freeserve.co.uk
Razzle
07841 533258
http://www.razzlesiamese.com

Berkshire
Dreamjax
Reading
0118 9611319
enquiries@dreamjax.co.uk
www.dreamjax.co.uk

Buckinghamshire
Featured Breeder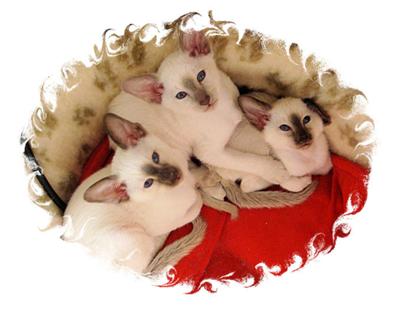 Boberg
meezboyrraa@hotmail.com
www.bobergsiamese.co.uk

Cambridgeshire
Featured Breeder

Purrfactor
Peterborough
07734 666800
purrfactorcats@yahoo.com
www.purrfactor.com

Cheshire
Bellis
Audlem
01270 811078
BellisSiamese@aol.com
www.bellissiamese.co.uk

Bethanjo Siamese
Chester
01244 534889
bethanjo.siamese@dsl.pipex.com
www.bethanjo-siamese.co.uk
Flowerdew
01260 270665
barrygrey18@hotmail.com
www.siamese-flowerdew-styperson.co.uk
Kyomi
Cheshire/Flintshire border
01244 881559
www.kyomisiameseandorientals.co.uk
Larhill
Chester
01244 342677
laraunderhill@hotmail.com
www.larhillsiamese.co.uk

Merrytail
Siamese & Orientals
Chester
Patricia Caney
07527 429824

Starappeal
The Wirral
0151 327 7812
sue.mcparlin@ntlworld.com
www.starappealsiameseandorientals.co.uk
Styperson
Macclesfield
01625 668908
www.siamese-flowerdew-styperson.co.uk

Cleveland
Billstes
Hartlepool
01429 262237
info@billstes.co.uk
www.billstes.co.uk

Cornwall
Featured Breeder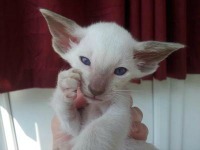 Rocheros Siamese
Cornwall/Devon border
eaglesrock@btinternet.com
www.rocheros.co.uk
Skyquest
Cornwall/Devon border
01409 220153
info@skyquestsiamese.com
www.skyquestsiamese.com

Devon
Featured Breeder

Emrys (Old Style & Classic Siamese)
Emma and Adrian Keeling-Look
meow@emrys-siamese.co.uk
www.emrys-siamese.co.uk
Members of the GCCF
Good Breeders Scheme

Whizkitz
Barnstaple
01271 372961
whizkitz@yahoo.co.uk
www.whizkitzsiameseandorientals.co.uk

Dorset
Cassiatan
Poole
01202 730534
cats@cassiatan.co.uk
www.cassiatan.co.uk

Essex
Johpas
Chelmsford
jackie@johpassiamese.co.uk
www.bestofbreeds.net/johpas
Shermese
celia.simpson@btopenworld.com
www.shermese.com
Tianlex
Tiptree
01621 817705
patcook@tianlex.freeserve.co.uk
www.tianlexsiamese.co.uk

Gloucestershire
Beckstar
Gloucester area
01452 611412
Rbeckles25@aol.com
www.beckstar-siamese.co.uk
Bigglesworth
Gloucester
01452 529790
Bigglesworthcats@yahoo.co.uk
www.rebeccajenkins.vpweb.co.uk
Jomese
Cheltenham
joanpounds@yahoo.com
www.jomesesiamese.co.uk

Hampshire
Abicasa
Winchester
01962 883525
abicasa@btinternet.com
www.abicasa-siamese.co.uk

Hubbell
Andover
enquiries@hubbellsiamese.co.uk
kittenenquiries@hubbellsiamese.co.uk
www.hubbellsiamese.co.uk
Mylynn
Alton
01420 87658
lynnestuder@gmail.com
www.mylynnsiamese.co.uk

Hertfordshire
Issamee
01767 683583
sue@issameeburmese.co.uk
www.issameeburmese.co.uk

Isle of Wight
Incawood
incawood@btinternet.com
www.incawood.co.uk

Kent
Maihongsong
Orpington
01689 835010
www.maihongsonsiamese.co.uk

Silkasiamese
Erith
Lisa Jordan
07722 416133
silkasiamese@yahoo.co.uk
www.silkasiamese.co.uk

Lancashire
Featured Breeder


Amun
01253 702075
www.amun-cats.co.uk
Foxypaws
Greater Manchester | South Lancs
01942 891505
ireneandycats@siameseuk.co.uk
www.siameseuk.co.uk

Siamaiden
01254 873465
lynne.rice@sky.com
www.siamaiden.bravehost.com
Wandering Siamese
Hindley | Wigan
01942 522919
enquiries@wanderingsiamese.co.uk
www.wanderingsiamese.co.uk
Wiccanways
Wigan
01942 620048
debbiedavies@blueyonder.co.uk
www.wiccanways.me.uk

Leicestershire
Scotmar
01530 263343
www.scotmarsiamese.co.uk

Shawstar
0116 2751391
Cosby, South Leics
www.shawstar.co.uk

Lincolnshire
Flutterby
Grimsby
01472 276620
kay.flutterby@btopenworld.com
www.flutterbysiamese.co.uk

Mamamia
Barrow-upon-Humber
07970 855684
lisa@pamartin.demon.co.uk
www.mamamiasiamese.co.uk

Meesona
Cleethorpes | Grimsby
01472 238396
pksharpe.meesona@ntlworld.com
www.meesona-siamese.co.uk
Sensay
Scunthorpe
01724 866982
sensaysiamese@btinternet.com
www.sensaysiamese.co.uk

Merseyside
Changsai
0151 203 6316
changsaisiamese@blueyonder.co.uk
www.changsaisiamese.co.uk

Sangchan
The Wirral
0151 678 0160
Liz@SangchanSiamese.co.uk
www.sangchansiamese.com

Siamese Cats
0151 284 6420
siamesecats@live.co.uk
www.siamesecats.org.uk

Middlesex
Draculita
Sunbury
01932 782696
siamesedraculita@aol.com
www.draculita.co.uk

Spiritwind
spiritwindcats@aol.com
www.spiritwind.co.uk
Siamese cat breeders in the United Kingdom
Counties N-Z
Norfolk
Chenazz Cats
Heathersett | Norwich
01603 811837
chenazz@aol.com
www.chenazz-cats.co.uk

Chikuai
Heacham
01485 570694
www.chikuaisiamese.co.uk
Debikat
01493 733340
debbyrichards@btinternet.com
www.debikat-siamese.co.uk
Jakurtzzi
01493 740736
mary@jakurtzzi-siamese.co.uk
www.jakurtzzi-siamese.co.uk
Laziza Siamese
Yvonne Kincaide
Swaffham
01760 720354
lazizasiamese@hotmail.co.uk
Stiltskin
Cromer
01263 720918
donnakwt@aol.com
www.stiltskinsiamese.org

Northamptonshire
Edenport
Wellingborough
01933 226373
edenport@yahoo.co.uk
www.edenport.piczo.com
Shimileeta
01933 396997
jenny@shimileeta.co.uk
www.shimileeta.co.uk

Zaragazana
Thornby
info@zaragazana.co.uk
www.zaragazana.co.uk

Nottinghamshire
Taomese
01623 556364
taomese1@aol.com
www.taomesesiamese.moonfruit.com

Oxfordshire
Kaypez
Chipping Norton
07900 125908
enquiries@kaypezsiamese.co.uk
www.kaypezsiamese.co.uk

Shropshire
Jadevyn
01952 770929
jadevyncats@o2.co.uk
www.jadevyn.com

Somerset
Jaymax
Weston-super-Mare
07856 202249
max@jaymax-siamese.co.uk
www.jaymax-siamese.co.uk

Minervamoon
Bristol | Bath
01761 413318
kittens@minervamoon.co.uk
www.minervamoon.co.uk
Shokou Cats
Cheryle Gunn
Kingston Seymour
Nr. Clevedon
01275 879919
shokoucats@aol.com
www.shokoucats.co.uk

Sialaxy and Tonkyway
Old-Style Siamese & Tonkinese cats
Bridgwater
Julie Singleton
01278 671868
julie@tonkyway.co.uk
www.tonkyway.co.uk

Staffordshire
Angelhelm
01782 818063
angelhelmsiamese.webeden.co.uk

Suffolk
Lintama Cats
Wetheringsett (between Ipswich & Diss)
Lesley Green
01728 860486
www.lintamacats.co.uk

Mafdet
01359 270966
carol@mafdet-siamese.com
www.mafdet-siamese.com
Nitsilik
South Elmham
01986 782475
nitsilik2000@live.co.uk
www.nitsilik.co.uk
Rantipole
Bury St. Edmunds
01359 259652
rosie.meekings@rantipole.demon.co.uk
www.rantipole.demon.co.uk

Sussex
Beaububbly Orientals
Littlehampton
01903 719652
beaububbly@yahoo.com
www.beaububblyorientals.co.uk

Purmisqus
Hastings
01424 428462
mosbysiamese@talktalk.net
www.purmisqus.co.uk
Tikindi
Haywards Heath
tikindi@tesco.net
www.tikindi.com

Teesside
Nosemi
Middlesbrough
01642 599245
www.nosemisiamese.co.uk

Wiltshire
Malikasiam
Cirencester
malikasiam@aol.com
www.malikasiam.co.uk

Yorkshire
Featured Breeder

AimeeZoe Siamese and Orientals
Nr. Doncaster
Christine Martin
07775 580574
christine@aimeezoesiamese.co.uk
https://aimeezoesiamese.co.uk/
https://www.facebook.com/aimeezoesiamese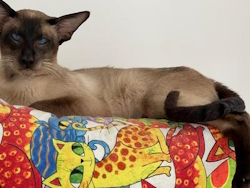 Drestothril
NunMonkton | York
01423 331447
c.knowlson@btinternet.com
www.drestothrilsiamese.co.uk
Empathica Cats
Hull
07593 348894
empathicacats@yahoo.co.uk
www.empathicacats.com
Pendlemist
pendlemistcats@googlemail.com
www.pendlemistcats.com
Pure Siamese
Baildon
01274 589588
pam@puresiamese.co.uk
www.puresiamese.co.uk
Westgarth Cats
Huddersfield
01484 645450
westgarthcat@aol.co.uk
www.westgarthcats.com

Disclaimer
The breeder listings above are provided as a service to our readers. Life with Siamese Cats neither inspects catteries nor provides any form of warranty for the breeders listed here. Please do your own research into the trustworthiness of breeders and health of their kittens.
Please read our 'Guidelines for Buying a Siamese Kitten'  for further information.
Life with Siamese Cats reserves the right to refuse or remove the listing of any breeder that fails to provide high standards of animal care and customer service.

Related Pages

Have You Discovered Our Newsletter?
If not, why not? Subscribe to our email newsletter, Meezer Musings, to stay in touch, be the first to see new information and pages as they come out, and read the things we only talk about in the newsletter.

Learn more about it on our Newsletter Sign-Up page.