Siamese Cat Breeders in the United States
To navigate our list of Siamese cat breeders in the United States, click the relevant link to jump to the state you're interested in. If there's no live link for a state it means we don't have any listings for breeders in that state.

Check the states surrounding yours too if appropriate. You may find there are breeders near you just across the state line.

Featured breeders (shown at the top of their state's section) have a page of their own here on this website - click the link by their photo to visit their page for more detailed information.

General listings show each breeder's contact details and website - please visit the websites to decide whether a particular breeder sounds like the right match for you.

Please contact breeders directly, using the contact details in their listing, to find out about their available Siamese kittens for sale.
---

*A note for Siamese cat breeders in the United States

If you don't find yourself listed below and you'd like to be included, please contact us to let us have your details - your cattery name, location, telephone number (optional), email address and website.

If you'd like to build a page on this website to feature your cattery please click Add A Cattery and follow the instructions.

In building your own page here, you'll become a featured breeder like the ones in the section just below. It's easy and it's free!
You can put in as many details about yourselves and your cattery as you wish, as well as up to four photos of your cats or kittens.


---

Siamese cat breeders in the United States

States A-M


Arizona
Clowntown Cattery
Howard Webster
Phoenix, AZ
602-717-4830
clowntwn2@aol.com
clown@myorientals.com
www.clowntowncattery.com


Siam Moon
Casa Grande, AZ
520-280-8954
admin@siam-moon.com
www.siam-moon.com
---

California
Featured breeder

Tresor Cats
Suisun City (Bay Area) N. Cal
Annabel M. Cailles
707-429-3346
tresorcats@comcast.net or
tresorcats@gmail.com
www.tresorsiamesecats.com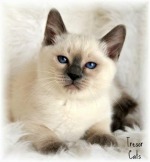 Archenland
Los Angeles, CA
archenlandsiamese@gmail.com
www.archenlandsiamese.com

Bay Blues Cattery
San Leandro (Bay area), CA
Rick Yulo
510-352-1601
www.baybluescattery.com
Diane Dunaway
San Diego, CA
858-484-8575
welovesiamese@aol.com
www.siamesekittens.com
Shadows
Ron and Debbie Skinner
Aguanga, CA
951-551-3879
Debbie.Skinner@pawsnclaws.us
www.pawsnclaws.us/shadows.htm
Shadow Stalkers
Red Bluff, CA
Susan Ratcliffe
530-527-0383
darkesthourangel@sbcglobal.net
or
Shirley Shuman
530-527-7463
prairiecats@snowcrest.net
www.freewebs.com/siameseshadows


Sydsu Cattery
Southern California
www.sydsucattery.com
---

Colorado
CloudCity Cattery
Denver, CO
cloudcitycattery@comcast.net
www.cloudcitycattery.com

Point Heavenward
North East Colorado
www.pointheavenwardsiamese.com
Thai-Di Cattery
Denver, CO
Diane Swabby-Cahill / Allen R. Cahill
kdswabby@juno.com
www.thaidicattery.com


---

Florida
Featured breeder

Gotier Siamese
Henri Gotier
304 SW 13 Street
Fort Lauderdale, Florida 33315
gotier2@aol.com
www.gotiersiamese.com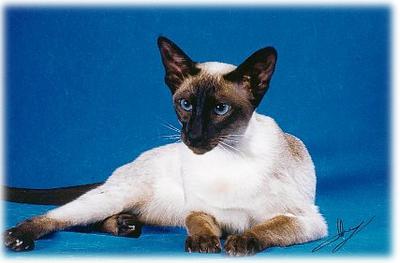 Central Florida Siamese Cattery
Orlando, FL
centralflsiamese@yahoo.com
www.centralflsiamese.com
Katsmith
Central Florida
Kathryn Brady
917-969-9482
cats@katsmith.net
www.katsmith.net
Leonard's Siamese Connection
Venice, FL
Laura Leonard
941-408-9832
www.siameseconnection.traditionalcats.com
SiamBaliRags
Miami, Fort Lauderdale, Palm Beach, FL
Beatrice Dore (Aunt Bea)
863-675-4075
561-827-3669
Siambalirags@gmail.com
www.siambalirags.com

Suyaki
Miami, FL
305-234-1220
suyaki@bellsouth.net
www.suyaki-siamese.com


---

Georgia
Kittentanz
Jasper, Atlanta, GA
Bill and Michelle Harrison
770-735-1405 (home)
404-428-2287 (cell)
catman@kittentanz.com
www.kittentanz.com


---

Hawaii
Kaluamoa Cattery
Lawai, Kauai
Charlee and Louis Abrams
808-332-7900
kksp@juno.com
www.hawaiisiamese.com


---

Illinois
Featured breeder

Siamese Royalty
Central-Southern IL
Marie Clements
618-443-4368
marieclements@siameseroyalty.com
www.siameseroyalty.com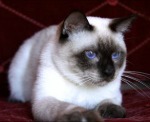 Sahja Oriental Shorthair & Siamese
Chicago / Winnebago County, IL
815-877-8358
kittens@sahjasiamese.com
www.sahjasiamese.com


---

Indiana
Cameo Gems
Northern Indiana
www.cameogems.com
Kolb Siamese & Oriental Shorthair
Albion, IN
260-799-5729
260-564-3990
ksdkolb@ligtel.com
www.kolbsiamese.com
Rosebud's Siamese Cattery
Fort Wayne, IN
Sharon Bubb
260-432-5308
rosebud2953@msn.com
www.rosebudssiamese.com
Sugars Cattery
Gwinn, Upper Peninsula, IN
Tiffany and Sean Rogers
906-346-2015
siameseluv7075@yahoo.com
www.sugarscattery.com


---

Iowa
Apple-Lissa Cattery
Lissa and Kent Seitz
Farmersburg, IA
563-536-2237 or
563-880-2225
www.applelissa.traditionalcats.com


---

Kansas
Kelty Siamese
Michelle Kelty
keltyfam@inbox.com
www.freewebs.com/keltysiamese


---

Kentucky
Featured breeders

Evermead Siamese
Bardwell, KY
Kristina Young
270-328-4679
evermeadsiamese@aol.com
http://evermeadcattery.wix.com/evermeadcattery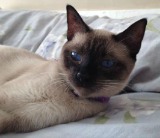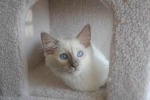 Blumoon O'Kentucky
Barbourville, Knox County, KY
606-546-8394 or
606-627-0357
blumoonky40906@yahoo.com
www.blumoonsiamese.com


---

Louisiana
Featured breeder

Southern Traditional Siamese
Ponchatoula, Louisiana
Lynn Schwamb
(985) 542-1681
southerntraditionalsiamese@gmail.com
www.southerntraditionalsiamese.com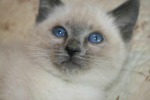 Minghou Cattery
Pat & George Muise
508-395-6000
www.minghoucattery.com


---

Maine
Starlight Siamese
North Waterboro, ME
207-602-8735
www.moonlightacreskennel.com/
starlightsiamese.html


---

Maryland
Blue Eyes Cattery
Southern Maryland
St. Mary's County
240-925-3058
www.blueeyescat.com

Provenance Cats
Centreville, MD
www.balinesewhiskers.com
Pundit Cattery
Sandy Spring, MD
www.home.comcast.net/~pundits69/
---

Massachusetts

Baby Blues Cattery
Central MA
Cheryl Ashe
BabyBluesCattery@aol.com
www.babybluescattery.com
Black & Tan Old-Style Siamese
Central MA
www.blackandtansiamese.com
Shang'Shirl
Shirley Nawoichik
Rockland, MA
781-871-7659
www.shangshirl.traditionalcats.com
Sutton Meows
Sutton, Worcester, MA
508-476-5282
suttonmeows@aol.com
www.suttonmeows.com
Tanari Cats
30 miles west of Boston, MA
Donna M.
tanaricats@aol.com
www.tanaricats.com


---

Michigan
Featured breeders

Katz Meow
Waterford, MI
Susan Vaughn
248-425-2491
katzmeowcattery@yahoo.com
www.katzmeowcattery.com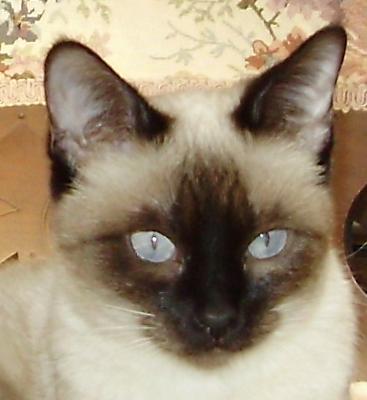 Thai Dee Maew
Waterford, MI
Lisa Young
thaideemaew@yahoo.com
www.thaideemaew.com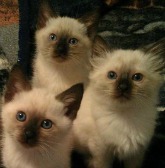 Maiyah Siamese
Detroit, MI
Sheryl Polikoff
519-776-9616
shaindy@sympatico.ca
www.maiyahsiamese.com

Salliotte's Siamese Cattery
Taylor, MI
lsalliotte@att.net
Sanmaurs Siamese
Sterling Heights, MI
Scott & Sandy Carlson-Davis
586-826-9773
www.sanmaurs.com
Siamese Resort
Chesanang, MI
Terri Thomas
989-845-4113
cny31100@centurytel.net
www.freewebs.com/terripearl/
Sugars Cattery
Gwinn, MI
906-346-2015
siameseluv7075@yahoo.com
www.sugarscattery.com
VanScholten Siamese
Holland, MI
616-335-5744
ascholtn@iserv.net
www.siamesevanscholten.com


---

Missouri
AppyHorsey Siamese Cats
Dixon, MO
Deloris J. Willis
573-759-6959
AppyHorsey@windstream.net
www.appyhorsey.com


Lilla B
St Louis, MO
www.lillabsiamese.com
---

Siamese cat breeders in the United States

States N-Z


Nebraska
Old Style Siamese
Central NE
308-457-3303 or
308-627-6143
kfees@kearney.net
www.traditionalsiamese.net


---

Nevada
Sherona Cattery
Las Vegas, NV
www.sheronacat.com


---

New Hampshire

Blueberry Basket
Sandy Herbert
Nashua, NH
603-882-2538
HerbertSandy@comcast.net
www.blueberrybasketcattery.com
Cann-Dee-Apples
Nashua, NH
Mary Jo Cannarella
603-883-2070
mjocann@aol.com
www.canndeeapples.com
My Thai Traditionals
Patricia M. Barrett
Manchester, NH
603-206-5493 or
603 321 8683
www.mythai.traditionalcats.com


Salmon Falls Cattery
Rochester, NH
(603) 335 6615
sharon@salmonfalls.traditionalcats.com
www.salmonfallstraditionalcats.com
---

New Jersey

Featured breeder

Azureys Cats
Bergen County, NJ
201-917-9994
azureyscats@hotmail.com
www.azureyscats.com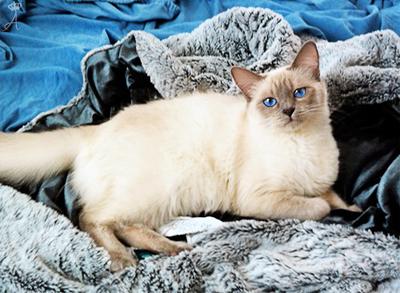 Abha Siamese
Carole Pulkowski
Stockton, NJ
908-782-6165
carole.pulkowski@gmail.com
www.abhasiamese.com

Hughes Mews
Margate, NJ
215-464-9555
siamesekittens27@comcast.net
www.hughesmews.traditionalcats.com
www.pets4you.com/pages/hughesmews


---

New Mexico

Desert Rose
Bosque, NM
Jacque Steinbicker
505-864-3971
desertrose5@earthlink.net
www.desertrose5aussies.com


DiaBrillante
Albuquerque, NM
diabrillantesiamese@gmail.com
www.diabrillante.com
---

New York

Featured breeders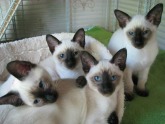 Siameden Cattery
Eden, New York
716-992-9428 | 716-264-3644
susandaniels1966@gmail.com
https://siamedenblog.wordpress.com/


Evening Mist Cattery
Manhattan
New York City
Ursula Basch & David Wheeler
212-532-9322
contactus@eveningmistcattery.com
www.eveningmistcattery.com


Siamese Dream
Suffolk County
Long Island, NY
631-860-3192
blueeyedbabies@siamesedream.net
www.siamesedream.net

Strictly Siamese
Tomkins Cove
Rockland County, NY
Faith Asabo
845-270-7750
faithasabo@gmail.com
www.strictlysiamese.com


---

North Carolina

Calderwood Cattery
Western NC
828-391-1631
chardingnc@gmail.com
www.calderwoodsiamese.com
Carolina Blues
Carol Gagatch
Wesley Chapel, Charlotte, NC
704-256-4326
carolinabluescattery@gmail.com
www.carolinabluescattery.com

Tam Siam
Charlotte, NC
704-536-7168
tammyb70@bellsouth.net
www.tamsiam.com


Zelines Siamese
Julie Zwemke
Charlotte, NC
julie@zelines.com
www.zelines.com


---

Ohio
B&D Siamese
Central OH, North of Columbus
bdsiamese@yahoo.com
www.bdsiamese.com
Chinki Siamese
Toledo, OH
www.chinkisiamese.com
Pawpourri
Columbus, OH
614-218-7918
tracey@pawpourricattery.com
www.pawpourricattery.com

Sacred Siamese
Columbus, OH
614-572-7300
sacredsiamese@gmail.com
www.sacredsiamese.com
Vida Cattery
Wauseon, OH
419-356-4744
www.vidacattery.com


---

Pennsylvania
Applecat Acres
Newville, PA
Judith Heberlig
717-776-3319
www.applecatacres.traditionalcats.com
Blue Eyed Six
Lancaster, PA
717-872-4781
siamese@blueeyedsix.com
www.blueeyedsix.com
Imperial Star Siamese
Broomall, PA
Ellen Russeck
610-353-7717
www.pet-net.net/imperialstar/
Kathy's Country Siamese and Balinese
Dayton, PA
Kathy Brothers
814-257-9825
kathysbrothers@yahoo.com
www.freewebs.com/countrysiamese/
Mezetique
Southern PA
717-201-0759
siamese@mezetique.net
www.mezetique.net

Premium Siamese Cats
Imperial, PA
Tanyia Miller
724-947-2294
prettypoints@premium-siamese-cats.com
www.premium-siamese-cats.com
Sandypoints
Philadelphia, PA
sandypointssiamese@gmail.com
www.sandypoints.com


Yatai Siamese
South-Eastern PA
www.yataisiamese.com


---

Rhode Island

Bella Mia
West Warwick,RI
401-828-1377
bella.mia67@gmail.com
www.bellamiacatterysiamese.com
Su-Su
Coventry, RI
Judith Sousa
401-615-0266
http://susucattery.webs.com/


---

Tennessee
Tyjunsee Siamese and Colorpoint Shorthair
931-542-2190
camich67@yahoo.com
www.tyjunseesiamese.com


---

Texas
Cupid's Pride Cattery
Lufkin (East TX)
Carl and Patty Bridges
936-634-9398 or
936-414-1308
http://cupidspride.tripod.com/
JaMarKits
Houston, TX (one hour north)
Mary Mosley
936-203-2322
www.texassiamese.com
jamarkits@texassiamese.com
RanchCats Cattery
Central TX
Cliff and Jenny Hamons
254-716-1356
ranchcats@yahoo.com
www.oriental-siamese-kittens.com


Saroko
College Station, TX
RC Koestler
979-696-1435
www.siamese-kittens.com
---

Utah
Geishagoll Siamese
Salt Lake City, UT
www.geishagollsiamese.com


---

Virginia
CherMa'Ki Siamese
Gloucester (35 mins Williamsburg), VA
Cheryl Kerney
804-642-4293
cheryl@chermaki.com
www.chermaki.com

Chocolado Siamese Cattery
Fairfax, VA
chocolado1836@aol.com
www.chocoladocattery.com
Hokecats Cattery
Blacksburg, VA
Linda Rose
540-239-6386 or
540-552-0914
hokecats@yahoo.com
www.hokecatscattery.com


---

Washington
Featured breeder

Permes Cats
Poulsbo, WA
360-930-0324
permescats@gmail.com
www.permescats.com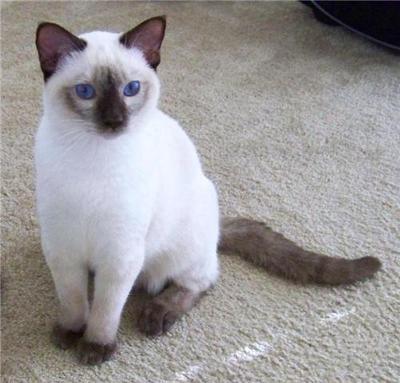 Katko
Brush Prairie, WA
Carol & Herb Maxey
360-896-9924
katko@spiritone.com
www.katko.net


---

Wisconsin
Koblizek Siamese
715-339-6441
koblizek@pctcnet.net
www.koblizeksiamese.com


OhanaSkye
Shelley Watkins
ohanaskye@charter.net
www.siameseplease.com


---

Disclaimer: The breeder listings above are provided as a service to our readers. Life with Siamese Cats neither inspects catteries nor provides any form of warranty for the breeders listed here. Please do your own research into the trustworthiness of breeders and health of their kittens. 
Please read our 'Guidelines for Buying a Siamese Kitten'  for further information.
Life with Siamese Cats reserves the right to refuse or remove the listing of any breeder that fails to provide high standards of animal care and customer service.


---

Still waiting for your special kitten? You might like these:

---
---
If you're enjoying your visit, why not
sign up for our newsletter,
Meezer Musings?

Reflections on all aspects of life with Siamese cats, from stories in the news to cat care tips, books, photos, and other goodies!

---
Like us? Please share us with
your Siamese cat-loving friends


---

Home  .  Privacy Policy  .  Affiliate Disclosure  .  Sitemap  .  About  .  Contact
Information provided on this website is not intended to replace professional advice. If you have any concerns at all about your cat's health, please consult a vet.
Life with Siamese Cats does not sell any personal information from this website.
For further information please see our Privacy Policy.
Copyright © 2009-2020 Caroline Haines, Life with Siamese Cats. All rights reserved.


---