Meezer Musings: June 2019
June Is Bustin' Out All Over…

All over the meadow and the hill!
Buds're bustin' outa bushes
And the rompin' river pushes
Ev'ry little wheel that wheels beside the mill!
So goes the Rodgers and Hammerstein song, from the musical Carousel.
At first glance you wouldn't think that the song has much to do with Siamese cats, although much of June has been very wet in many parts of the world and that rompin' river has been a raging torrent - sensible Siamese cats have been snuggled up in their blankets!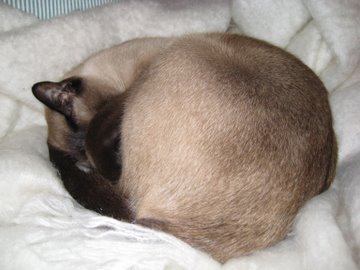 Summer? What Summer?
Image copyright © Life with Siamese Cats
But the Song Continues …
June is bustin' out all over!
The saplin's are bustin' out with sap!
Love has found my brother, Junior
And my sister's even loonier!
And my Ma is gettin' kittenish with Pap!
And it's here that the song, which is all about love, begins to have some relevance. June falls right in the middle of the 'kitten season' months.

Kitten season is dreaded by rescue centers everywhere. It's the time when un-neutered ferals and strays give birth and fill shelters and foster homes to bursting with pregnant moms and kittens, stretching resources to their limit.
Sadly, many kittens don't even reach the safety of an animal shelter, dying from illness or malnutrition or growing up to become ferals themselves.

Thrown Out

There have been some horrifying stories recently about the ways in which people try to get rid of unwanted kittens. A couple of weeks ago I read an account of kittens in North Carolina being thrown from moving cars on highways and over bridges.
Happily, some of these were rescued, including one little chap with Siamese coloring, but not all of them survived. Sometimes, cruelty to animals knows no bounds and kittens are abandoned, thrown in dumpsters, drowned, or worse.

But rather than dwelling on unhappy thoughts, I'd like to focus on rescuers, and the lucky kittens they found that go on to lead happy, healthy lives.

The Lucky Ones

Back in the early days of this website before Facebook became well-established and people started joining groups and making contacts there, we used to receive articles from people sharing stories about their cats.
Recently I've been re-reading these, and I wanted to share some of the ones relating to 'found' kittens.
The earliest of the stories dates from around 2010, so many of these cats may still be alive - they'd be around nine or ten now and I'd love to hear how they're doing! If any of these articles were written by you, do drop me a line with an update.
Criss-crossing the globe, from Portugal to Mexico to Israel to South Africa, and from all corners of North America - Canada to California, Mississippi to Massachusetts and Alabama to Washington, here are some heartwarming tales, and even happier tails!
Clicking the photos or the links in each section opens a new window or tab where you can read each story in full.

An Ocean Apart: Portugal to Mexico

In one of the first stories we ever received, way back in 2010, Susan in northern Portugal told us about the kitten she found outside a Portuguese beach café.
No-one knew where the kitten had come from, or whether anyone owned it, and after asking around and leaving her phone number with the café, Susan took it home.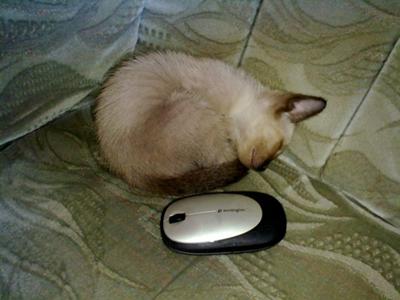 Safira and the Mouse
Naming the kitten Safira - Sapphire in Portuguese - and nicknaming her Saffy, Susan returned to give us an update in 2013, by which time Safira had grown into a beautiful dark seal point.
Read more of Susan's story: Praia Fluvial Siamese Kitten Find

Meanwhile, on the other side of the ocean, in Mexico, Andrea Winter was in the middle of a Mexican Independence Day party when she heard the tiniest of mews coming from the direction of her garage at 3 a.m.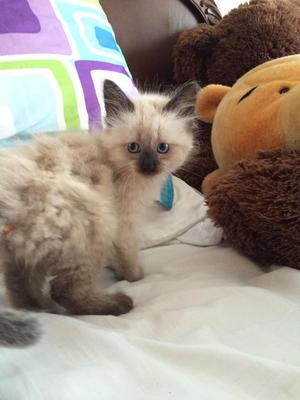 Newton (Midnight Meow)
Alone, thin, terrified and covered in burrs but otherwise uninjured, the kitten (subsequently named Newton) was the sweetest little thing and very friendly - like Safira above, she was fond of sitting on a shoulder, like a little parrot!

Read more of Andrea's story: Midnight Meow
A Continent Apart: Israel to South Africa

Judy, in Israel, was heartbroken and grief-stricken after the loss of Lotto, the third of her three 'moggies' - mixed-breed cats.
She'd always wanted a Siamese, but felt that she couldn't afford a pedigree and anyway, she always went for cats in need.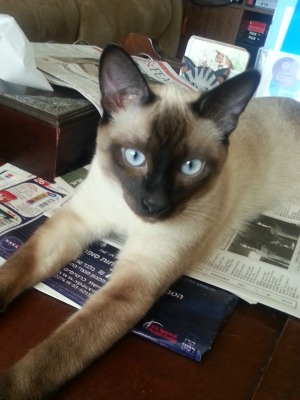 Siamese rescue Whisky
And then she found Whisky. Thrown out and deserted, Whisky found his way to Judy at just the right time for both of them, and went on to become the 'big brother' to a further rescued kitten, a tiny black and white scrap that Judy named Blighty.
Read more of Judy's story: My Abandoned Siamese
With a remarkably similar story, but a continent away, Elsa in South Africa was also grieving the loss of a precious cat.
Elsa eventually got to a point when she was ready to welcome another cat into her life, and adopted a scared little ginger kitten she named Lord Fluffington.
As luck would have it, only a week later Elsa received a call from a friend asking her if she'd like to have a seven-month-old Siamese kitten, who'd been kept in a cage all his life.
Houdini, the Miracle Siamese
Terrified of everything and everybody, and prone to disappearing and hiding away in dark places (a habit that gave him his name, Houdini), the kitten took a long time to settle but with lots of love and attention from Elsa, he eventually developed into a loving playful boy who adored his ginger brother.
Read more of Elsa's story: Houdini, the Miracle Siamese

A North American Road Trip!

Our next group of rescues takes us the length and breadth of North America, from easternmost Canada to westernmost California, from Massachusetts to Mississippi and, in our final trio of stories, almost from A to Z, from Alabama to Washington.

Canada to California

Paige, living in Prince Edward Island near the easternmost tip of Canada, found a four-month-old kitten in a ditch. She fed the scared, skinny, hungry cat for two weeks before realizing that no-one was going to claim him, and then took him in herself.
Heart-stealer Sapphire
Paige named the kitten Sapphire, and despite not really being a cat person she found that he very soon stole her heart. In a lucky turn of events she started working at a pet food store shortly afterwards, and Sapphire became one very spoiled kitty!
Read more of Paige's story: The Little Siamese Living in the Gutter

Way over to the west, in sunny California, USA, was Janice, working in a factory making paper products. Janice was told about a kitten hanging around outside the factory while other workers were taking their breaks.
Tiny, with creamy colored fur, orange tipped ears, tail and face, the kitten was very pretty, but terrified and hungry.  How had she ended up in an industrial complex?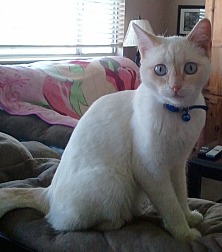 Sierra - found in factory grounds
Janice took the kitten (which she named Sierra, after the Sierra Nevada redwood forest) to the vet to check for a chip, but Sierra wasn't chipped, and no-one claimed her so Janice was able to adopt her and says "she was the best gift I could have ever been given".
Read more of Janice's story: Factory Friend Found

Massachusetts to Mississippi

Our next story comes from a reader who stopped en route from Vermont to Connecticut at a garden center in Massachusetts, where a local rescue center was holding a display of cats up for adoption.

With eight cats at home already our reader thought she'd take just a quick look at the cats and kittens - she certainly wasn't intending to rehome one!
Until, that is, a Siamese cat, lying quietly and calmly in her cage caught her eye. The bond was instant, and she found herself arranging to take the cat on to Connecticut.
Would the Siamese (later named Ming) settle into a household that already held eight cats?
Read more of Ming's story in: Ming, Our 'Garden Center' Cat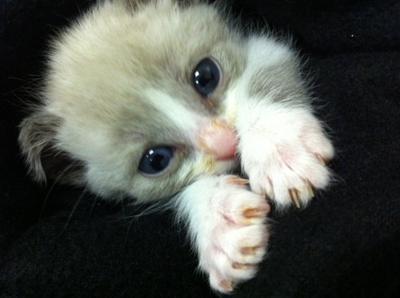 Tiny rescue, Dobby
In Mississippi, tiny Dobby, above, was found abandoned at the side of the road in a cardboard box along with his litter mates, on a freezing cold November day.
The kittens were just two weeks old. Happily for them they were found and taken to an animal clinic, where, at such a young age and with no mom, they needed to be hand-reared.
The kittens had to be fed every four hours, and Dobby was fostered by a young volunteer working on a school project. Her friend Melissa came over for a visit one night, fell in love with the kitten and adopted him.
Talkative, sociable, and a snuggler, Dobby certainly landed on his feet with Melissa.
Read more of Melissa's story: Kittens Abandoned At Two Weeks Old

Alabama to Washington

One hot night in Alabama...
So starts April's story of Jasmine, the flame point kitten who walked into April's life one morning at 2 a.m. Shaking, timid, but vocal, lured indoors with a trail of ham slices, where had this kitten come from? Why was it out there on its own?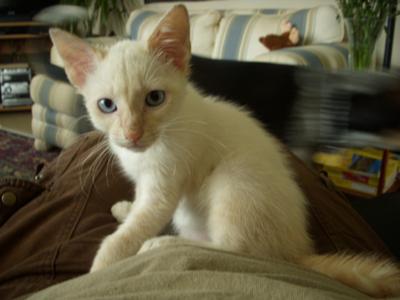 Jazz, late-night rescue in Alabama
Ridden with fleas and ear-mites, it soon turned out that 'she' was a 'he', and Jasmine became Jazz. He was kept in quarantine to begin with but once bathed and treated for fleas, Jazz became an instant hit with the family dog, earning his 'forever' place with the family.
Read more of April's story: Jazz, the Flame-Point Siamese Kitten

From 2013 came this little sweetheart, Zoe from Seattle, Washington.
Her owner Lori wrote this charming story about her shy, nervous seal point, who'd already used up quite a few of her nine lives.
First, she was thrown away in a cardboard box in a parking lot. Then she was rescued from a high-kill shelter. And finally, she ended up at the Humane Society, where Lori found her and gave her her 'forever' home.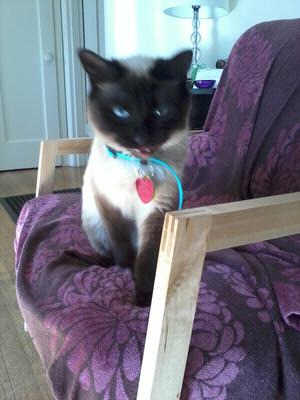 Pure personality - rescued seal point Zoe
That shy, nervous seal point soon turned into a playful, confident cat who loved toys and showing off her treasures and knew how to work a roomful of people like no other.

Read more of Lori's story: Zoe - the Little Ball of Pure Personality

Also in Washington, on a miserably cold, wet day, this tiny little miracle was found by Emily, a private care nurse. 
Told by a vet that the kitten would probably not survive the night, Emily nursed and fed the little one with kitten milk every three hours until morning, when the kitten started to eat Emily's other cat's food of his own accord.
In an extraordinary twist, Emily found another tiny kitten, barely alive, the following day ...

Read more of Emily's story: A Miracle Siamese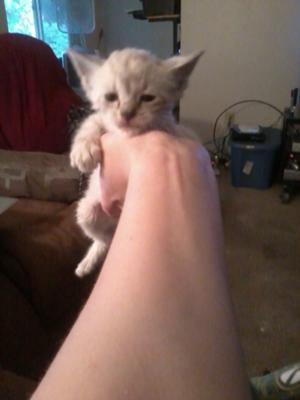 A Miracle Siamese
More Rescue Stories

I hope you've enjoyed reading all the stories above. They're just a small selection of the ones we've received over the years!
There's a full list of all the ones relating to adopted cats at the bottom of this page.
Highly relevant to our Meezer Musings this month, and in case you missed it, in April we reviewed Siri Zwemke's new book, Rescue Meez: My Journey Through Siamese Rescue, available on Amazon, about how she started the Siamese Cat Rescue Center of Virginia and the stories of the many cats who passed through its doors.
It's honest, funny, and at times heartbreaking as Siri details the mistakes she made and the successes she had, the things that went right and the things that went wrong and all that she learned in twenty years of being a self-described 'crazy cat lady'. I loved it!

Fun from Facebook

As I was going through some newsletters from 2013 I found this photo, which was submitted to our Facebook page in July of that year - a full six years ago!
It's one of my favorite images. The number of our Facebook followers has now passed the 6000-mark, including Javier Santiago Borghi, who submitted this photo and still pops in over there from time to time.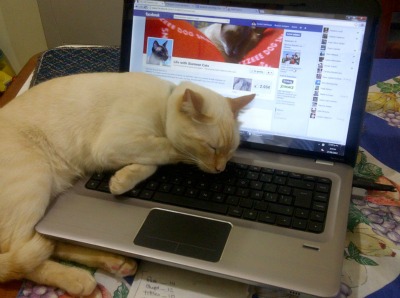 Facebook Frenzy!
Photo with thanks to and copyright © Javier Santiago Borghi
Tail End ...
However they were found and wherever they came from, these kittens all had something in common. They may have had a difficult start in life but they were taken in, provided with shelter and a forever home, and loved.

If yours is one of these stories, thank you for sharing it with us, and for giving these kittens a life.
I'll leave the last word to young Skylar from Virginia, who sent in a short story about her cat Mo.  Mo came from the Last Chance Rescue, via a  Petco adoption day. Here's what Skylar said:

"Whenever I remember that I saved her life, I feel good inside".
Have a great July, everyone!

Caroline

Missed a Meezer Musings? A list of previous newsletters can be found here.


Some of the articles and newsletters on this site may contain links to products I think you may enjoy. If you purchase through these links I receive a small commission, but there's no extra cost to you. Find out more on the Affiliates Disclosure page.


Have You Discovered Our Newsletter?
If not, why not? Subscribe to our email newsletter, Meezer Musings, to stay in touch, be the first to see new information and pages as they come out, and read the things we only talk about in the newsletter.

Learn more about it on our Newsletter Sign-Up page.